Hacking of the presidential election has been a constant news story that has been evolving since Donald Trump became president, to the shock of pundits and pollsters. Neither could understand how they got it so wrong, but they did. It isn't hard to see why. Pollsters like Gallup, Quinnipiac and my own alma mater, Suffolk University, took the same approach as always: telephone calls. Some pollsters called hundreds, some called thousands. Unfortunately, as we're now seeing uncovered, a company in the UK called Cambridge Analytica reportedly mined 50 million Facebook accounts to understand trends, create personas and target just the right people with just the right message in a highly successful and highly visible marketing campaign; to elect the next President of the United States.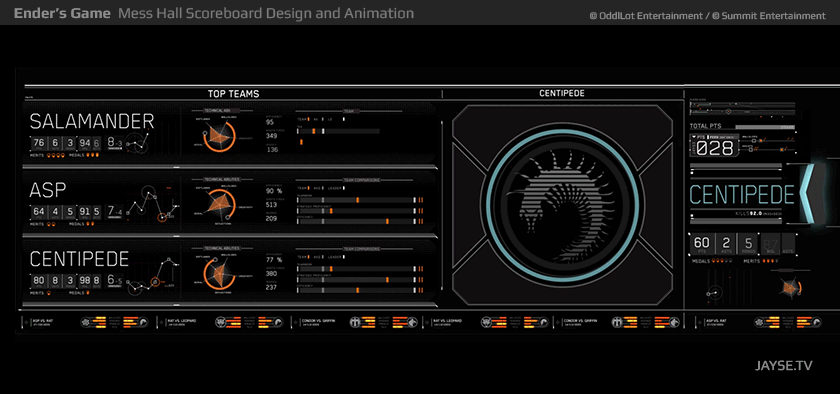 Big data has been a buzzword for years but social media data, despite it's easy availability is rarely leveraged past likes and engagement. As of this year, 2.1 billion people belong to a social network. When you consider the demographic, usage behavior and psychographic data that is collected by these social networks, that's hundreds of billions of data points. Of course without
visualization tools
and
algorithms
, this data can be overwhelming. However, the recent presidential election is proof that not only can social listening data
predict trends and events
, but it can be used to
refine and optimize communications executions
.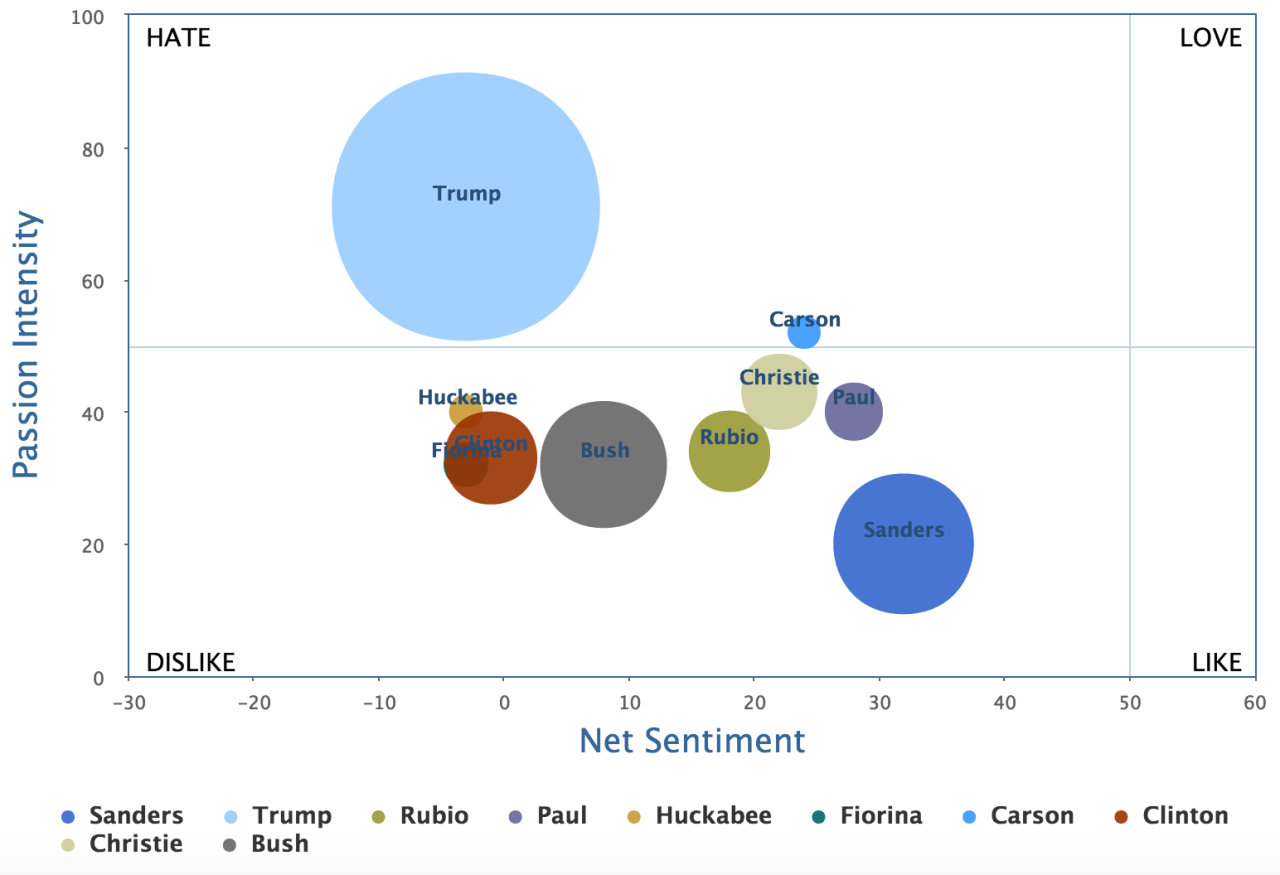 There are a myriad of tools that leverage analytics from Twitter, Google, Facebook, etc. Tools like
CubeYou
can help you understand, in finite detail, your audience's interests and behavior from where they attended college to where they buy their running shoes. Listening tools like Netbase can allow you to listen to conversations of hundreds of millions of consumers across the country and around the world to determine sentiment, interest, passion and dialogue about brands, events, etc. (The image at right and above is just some of the data I collected during the presidential primaries. This image, from Dec 23, 2015 showing a huge conversation lead but negative sentiment, around then candidate Trump. Candidate Clinton is buried in the reddish-brown bubble.)
In my work on both the agency and brand side there have been many conversations about data and analytics. Reporting is huge. But while submitting PowerPoint decks showing web traffic, impressions and Likes are ubiquitous, starting with data is rare in my experience. Marketing is about influencing hearts and minds, but, at least with the East Coast brands I've interacted with, building data-bases personas, gathering predictive data, modeling strategies on listening data is "way more innovative than we need".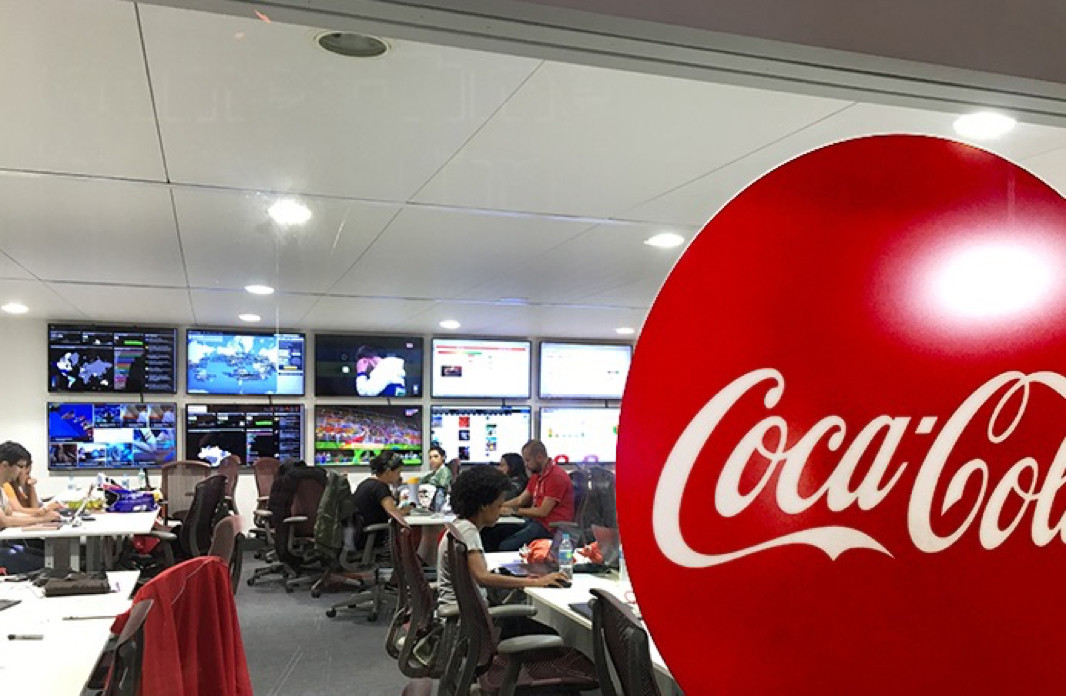 Some brands
are
using this data, building information hubs providing trend visualizations that encompass global data about their brands and their competitors. As much of this data is real time, it's allowing those brands, like Coca-Cola, McDonald's, Gatorade and more, to see current trends, engage with at-the-moment conversations, and be able to adjust their digital and social strategy (and hopefully overall marketing strategy) to respond to these changes as their unfolding. Unfortunately too few brands are taking this approach.
It's fairly obvious that brands should be better mining and leveraging big customer data, but how? It is alleged that Russian hackers spent $100,000 targeting small but vocal groups of right-wing voters in gerrymandered districts to ensure domination. In my work with Germany National Tourism Office (see case study), we used social listening tools to identify small but passionate micro-influencers who were focused on specific subjects that mapped back to the brand's pillars. We'd already done some deep listening research to uncover a brand gap that became the focal point of our campaign. While the original engagement called for increasing followers, our data led to the development of a strategy that would do this while trying to address the brand's perception gap.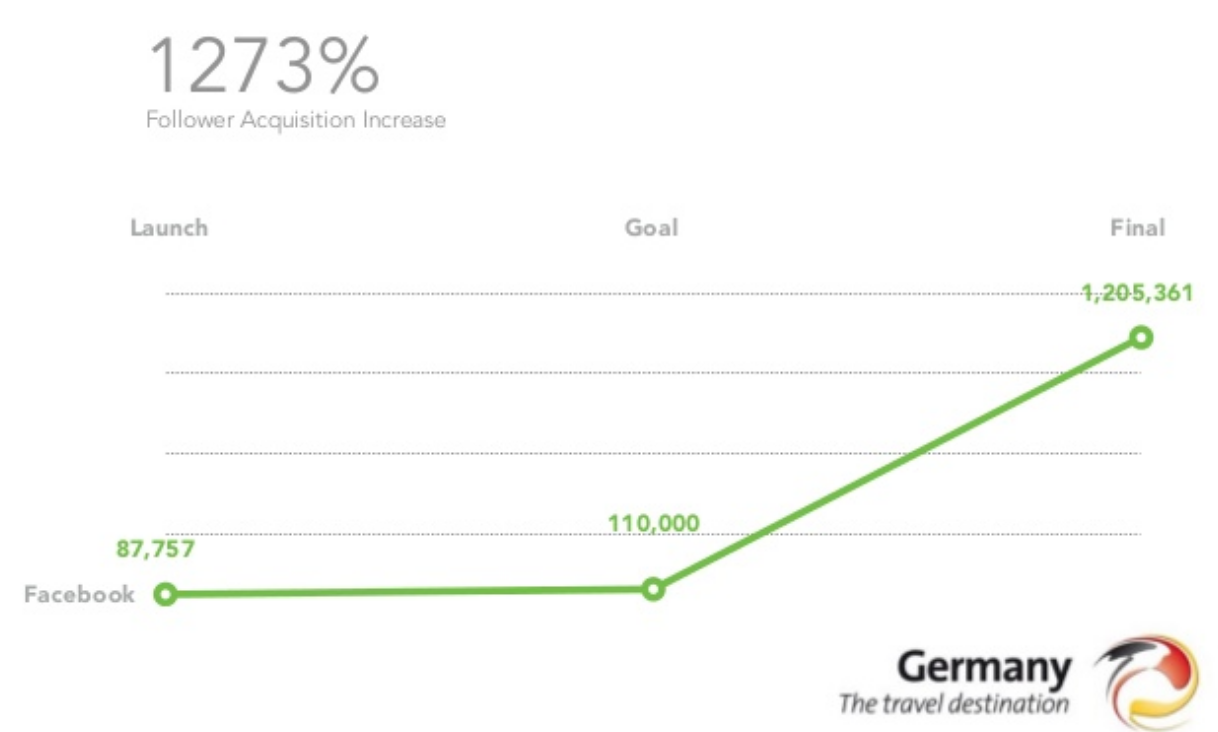 So, in the end, we were able to not only
report follower acquisition that not only satisfied but far exceeded our campaign goals
, we were able to positively impact the brand gap by shifting the needle by 7%. Our approach, never mind our success, began with data. In fact, while most agencies pitch a new client with spec creative and fully-baked strategies, we introduced ourselves with little but the findings and data from which it came. This allowed us to finely target the right audience, with the right message that, in a single month, earned us almost 40 million impressions, and in the end acquire 2-4 digit percentage increases in new followers.
Heavily mining social data to better understand your audience right now (not your persona report gathered by phone and email 6 years ago) is the key foundation to a marketing strategy. Leaving your assumptions, best practices, and plans at the door will help you approach your challenge with a clear, ey highly informed mind. Focusing on a customer-first approach to communications is the best way to leverage this data. Worry less about what your brand wants to say, hone in on what your audience wants to hear, then answer through the lens of what your brand stands for. The Trump campaign was able to focus on the anxiety of voters who were concerned with jobs, losing their racial identity, the economy and their values rather that what they actually stood for. They told their audience exactly what they wanted to hear, and won. That's not to suggest you should market to fear, but use Big Data, specifically social media data to really listen and respond to your audience in order to win their hearts online and at the register.